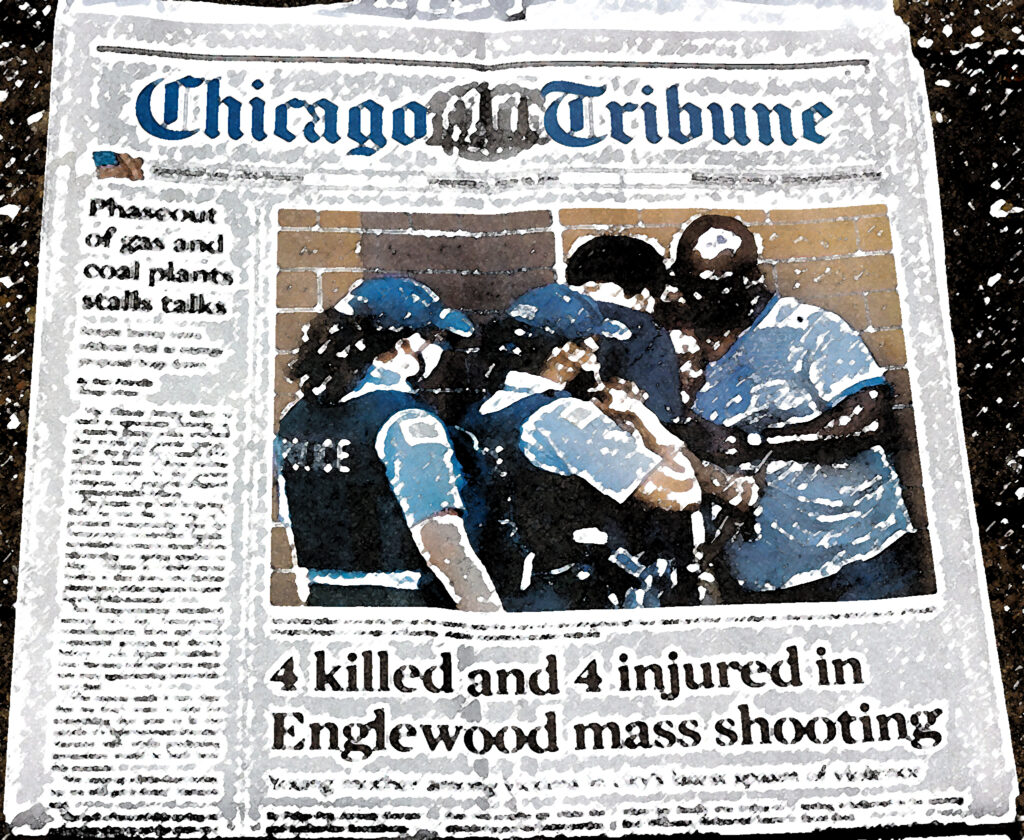 The talent drain continues at the Chicago Tribune. Columnists John Kass, Mary Schmich, Eric Zorn, Heidi Stevens, Editorial Board member, and columnist Steve Chapman accepted buy-outs from the paper. Other columnists and veteran noted reporters are pondering their fate.
Eric Zorn, Steve Chapman, John Kass, and Mary Schmich worked at the Tribune for over forty years. Heidi Stevens worked there for more than twenty decades. About one hundred eighty years of talent and institutional brain trust are cashing out and leaving. All were gracious with their exits. Their reasons for leaving were not given.
More people will be leaving. Good reporters, columnists, sportswriters, business writers, photographers, editors, and others. These are people who cared about the news. The Tribune will be a shell of its former glory. They will also leave graciously.
Alden Global Capital bought the Tribune. When the deal was proffered, there were dire warnings about Alden. It was referred to as a "vulture fund." They purchased the Tribune and other papers it owned. The signs are coming true. Alden is known for stripping assets, personnel and cutting costs to drive profitability. They are described as ruthless in their business practices. Like vultures, they strip the carcass until nothing is left but the bare bleached bones.
Alden currently owns over 100 newspapers and 200 other publications. According to the NewsGuild union, Alden cut staff at guild-represented papers by an average of 75% in one six-year period. (NPR.org) They brought their ruthless cost-cutting to the Tribune in short order.
The Chicago Tribune is not only a legacy newspaper but also a historical one. The paper is part and parcel of this city's history. The Trib was established in 1847, while Chicago was a fast-growing young city. The original masthead logo was "An American newspaper for Americans."
The Trib was responsible for creating the Republican Party and the election of Abraham Lincoln to the presidency. Under the leadership of Joseph Medill, they established journalistic standards. Medill's grandsons, who ran the Tribune, funded the Medill School of Journalism in 1921 at Northwestern University. It is one of the preeminent J schools and communication and marketing schools in the world.
The original Tribune building was destroyed during the Great Chicago Fire. They continued to publish through another printing company. They went from horse-powered printing presses to whatever new technology came out. For many decades, they were international in scope, covering wars and other international events.
Chicago was a newspaper town, and competition between the publications was fierce. During the 1920s, the competition was so violent that Al Capone was called to broker a truce between a Hearst-owned paper and the Trib. Capone later claimed to deal with the papers, and their goons were as bad as dealing with competing gangs.
The Tribune Tower and the Wrigley Building led to the development of North Michigan Avenue, creating the Mag Mile. The tower was sold by former owners, along with other assets. It is now a condo building.
When I was in college, Chicago only had four newspapers left. The Trib and Sun-Times were the morning papers. The Daily News and the American were the evening newspapers. Eventually, the Daily News and American folded, leaving the Times and Trib as the only two newspapers and editorial voices left.
Digital news was a boon and ruination of the newspaper business model. Many did not go online early enough. Others struggled to get their online presence right. Advertising rates for digital are way lower than print. Ad content is faster and cheaper to create. Papers had to sell more ads to make up for the lower price.
Some news sites are annoying to read because of all the pop-up ads, video ads, and their own videos. They also include paid content- clickbait- articles. This may be the next model for the Tribune. There is also a rumor that Alden will take the paper to a digital-only model, eliminating printing and other jobs related to publishing and distributing a newspaper.
It is a shame and an outrage that talented, great reporters and columnists feel they can no longer work for the place they called their second home. It is a pity that a local consortium could not be organized to buy the Tribune. It is a shame we will be stuck with a comic rag instead of a real newspaper.
The Trib will be owned by foreigners from New York, people from someplace else- who know nothing about this great city or its great newspaper. It would be better if space aliens took over the Trib. Alden's reputation reminds me of a theme song- The Stripper.
The Tribune, a historical and legacy news organization, will be turned into a mere clickbait and paid content generator. In other words, a major pain in the ass.
Maybe Alden knows something few of us do not. In this nation of bark chewers and peckerheads, the average newsreader is more interested in clickbait than solid, hard-hitting news and opinion. Maybe the new reporters and columnists will concentrate on the lives of celebrities, like the Kardashians or the Brit twit royal family. They will publish social media selfies of hot bikini pics of middle-aged to senior citizen has-beens, like other tabloids.
A parade should be held for Alden. One side of the street can be all the knuckle-dragging drooling idiots who will buy into their bull dung and subscribe. The other side of the road can be lined with the few intelligent people left. We can throw rotten tomatoes and eggs at their executives and pencil-pushing cost-cutters. Maybe, the Great Comedian smiles on us, with flocks of pigeons flying over to whiten their heads.