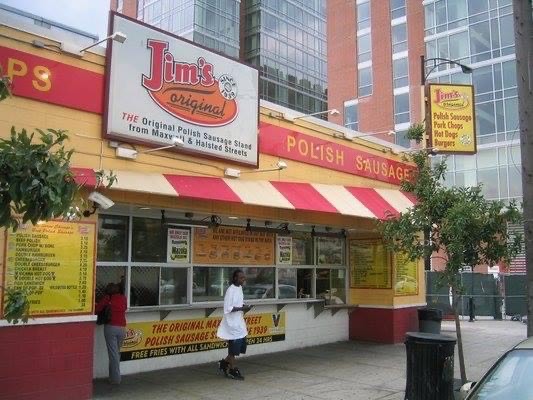 The legend of "Jim's Original" started over 80 years ago, when a young, bright-eyed European immigrant named "Jimmy" arrived in America. Once in Chicago, Jimmy began working at a small hot dog stand on the bustling corners of Maxwell and Halsted Streets. Jimmy worked hard, bought the stand from his aunt, and then made it literally "World Famous. (Jim's Original)
Jim's Original is a legendary Chicago food institution. From its original corner stand at Maxwell and Halsted Streets to its new location on Union. Jim created the famous Maxwell Street Polish sausage piled with grilled onions. The whole area smelled like onions from that corner stand. The Halsted Street buses smelled of onions. They also sold their famous pork chop sandwich, and hot dogs, with or without the onions.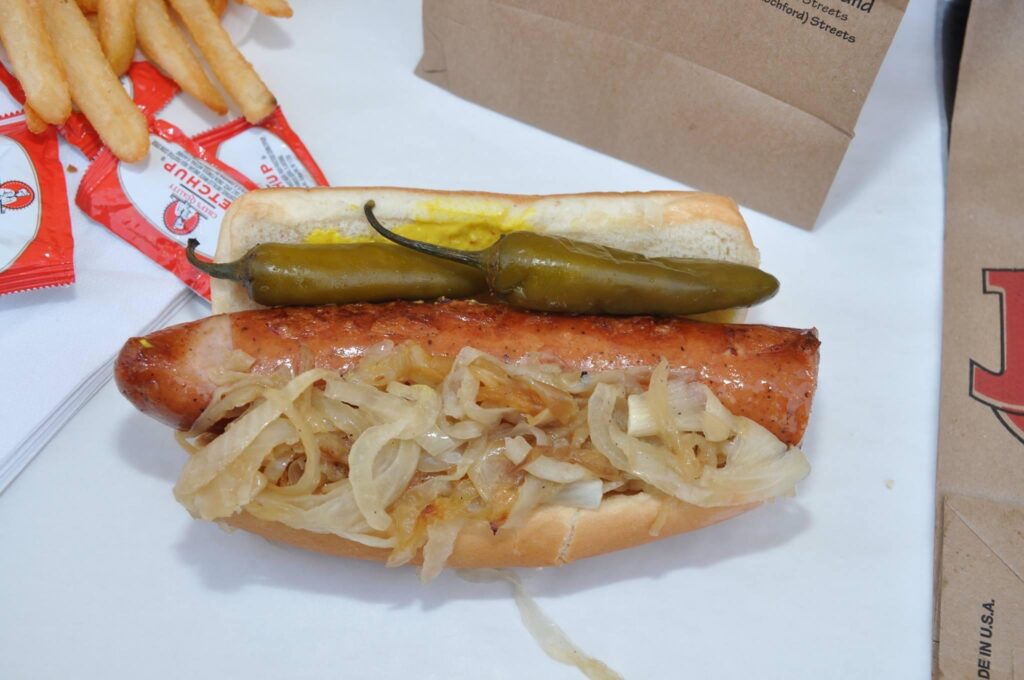 In the 1950s, Jim's Original opened twenty-four hours a day. It was a bigger success. Night or early morning is when you wanted to eat at Jim's. People from all corners of the city and suburbs stopped by Jim's Original during the wee hours. There were well-dressed people, some in tuxes, down to the typical late-night crowd. There were high-end vehicles, limos, and clunkers. Occasionally a bride and groom would show up with the wedding party.
Cops, cab drivers, newspaper delivery drivers, other overnight night workers, and people of every race and ethnicity ate there through the early morning hours. It is said the two busiest days at the Maxwell location were Mother's Day and Easter. Just about every night was a show. You never knew who or what you would see to be surprised by.
Jim's Original was not only known for the quality of their food. They were fast food done right. No matter how long the line, you never waited long for your sandwich. The best time to eat at Jim's was early morning, on your way home from carousing. There was always a cast of somewhat sober to not too sober people lining up for a Polish or pork chop sandwich with those famous grilled onions.
You ate off the hood or trunk of your car, weather permitting. If the weather was inclement, you ate in your car or took your food home. It took days to get the smell of onions out of your vehicle.
On weekends, when the Maxwell Street Market populated the surrounding vacant lots, there was a cacophony of hawkers selling wares, blues singers, other performers, and car horns blaring to get through the traffic. There was always a line at Jim's Original.
There are stories about the original stand at Maxwell. One is about a newly minted police sergeant who noticed the stand was too close to a fire hydrant. He wrote a citation. Before the court date, the city moved the hydrant.
A friend of mine's brother-in-law was the owner's accountant. Jim used to buy his Polish sausages from Slotkowski until they went out of business. He would get the delivery, then drive to Slotkowski's to pay in cash. He did not want to owe Slotkowski money. He and the owner were good friends.
The Maxwell Street neighborhood was sketchy, yet there was very little crime around that stand. When UIC bought the neighborhood to expand the university and build housing developments, they turned the area into a f**king suburb.
Jim's was relocated to Union Street, just south of Roosevelt Road. Their fans followed. As of Friday, they will not be open twenty-four hours. UIC is their landlord and demanded they curtail their hours. Now, they will be open from 6 AM to 1 AM. Those fuzzy-headed academics claimed the change was necessary due to rising crime in the area. Most likely, Jim's Original did not fit in with the suburban feel they want to maintain. Can't have people from all races mingling in the wee hours so close to half-million-dollar or more suburban-style homes, now, can we?
Another legendary food era is over. Thank you, UIC, for your asinine suburban attitude. By the way, when are you going to put a golf course in the area to finalize the suburbanization of your folly?