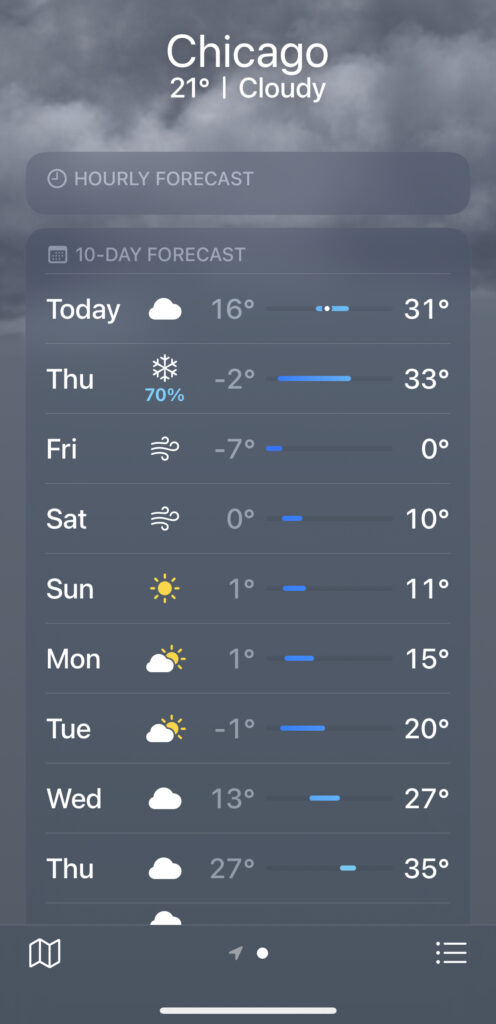 According to weather reports, Chicago will have a White Christmas along with a polar vortex and snowpocalypse.. A combination of a blizzard and single-digit and sub-zero temperatures are supposed to strike between Thursday and Saturday. The 30-degree temps will supposedly come back by Tuesday.
Of course, the city will demand we shovel their sidewalks or face fines. If they want the sidewalks shoveled, they should have city employees do it. Their sidewalk, their problem. Maybe Mayor Lightfoot could get out there and shovel sidewalks to set an example for other city employees. She could press thousands of city employees into service, shoveling sidewalks or using snowblowers. They live in every neighborhood, so why should we risk heart-a-strokes to shovel CITY sidewalks? If the city wants them cleaned, they should do it. Hell, that is why we pay taxes for city services.
The plows will be out, pushing snow against already snowbound parked cars, making digging out twice as miserable.
Once the weather warms up by Monday or Tuesday, kids can make snow people out of whatever clean snow is left. We witness that pure white beauty turns into gray and black ugliness within a day or two. Then, thanks to the dog owners, there is the famous yellow snow. Do not forget that public safety is non-existent in Chicago. Some of the snow will be stained with the blood of the many shooting and murder victims.
Those who have lived here know winters can be brutal, and complaining about them is useless. We just put up with them as best we can. People get out the heavy artillery clothing and footwear. We suffer the high winds while waiting on overhead El platforms or the streets for buses that may or may not come.
Winter in Chicago can be weird. Back in the early 1980s, I went running on Christmas Day in shorts and a tee shirt. But, by January, we had one of the coldest winters on record, with high double digits below zero wind chill temperatures.
I remember the blizzard of 1978-79 and the arctic temperatures with more snow that followed. There were still several foot-high snow piles in April at vacant lots and parking lots, where trucks dumped the snow. I also remember shoveling snow several times a day during the 1967 blizzard.
Winter is always a big question mark in Chicago. Some are relatively mild, with a few arctic days and maybe one or two major snowstorms. Others are yo-yos, with fierce weather followed by mild, followed by fierce. You can wear a sport coat and sweater one day and dress like Nanook of the North the next.
Chicagoans are a hearty breed. We may complain, but we learned to live with the strange weather phenomena. Our wardrobes run the gamut from skimpy to arctic explorer, all at hand, just in case. The only downsides are the people who live here and forget how to drive when the roads are snowy or iced over. Things can turn into a bumper car demolition derby on those days.
When the weather gets severe, the heroes are out. The various emergency responders. The police, firefighters, EMTs, emergency utility workers, and others who brave the cold and snow to keep us safe, warm, and well-lit.
Stay warm, stay safe, and remember, the polar vortex only lasts a few days. Then, the balmy 30-degree temps will return.