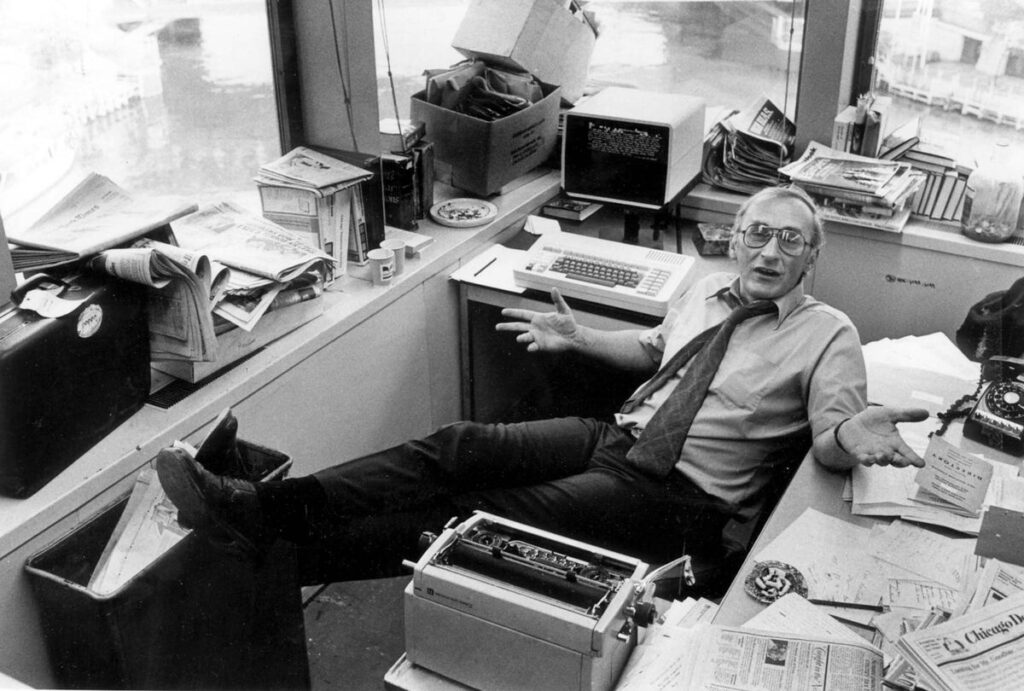 PHOTO: Chicago Tribune
Today, Mike Royko would have been 91 years old. I reprised this column to celebrate his birthday.
"Find a writer who has something American to say, and nine times out of ten you will find he has some connection with the Gargantuan abattoir by Lake Michigan- he was bred there, or got his start there, or passed through there when he was young and tender." (Henry L. Mencken/American Mercury 1933)
Mike Royko had something to say, a lot to say. Finding a writer with something American to say is harder and harder these days. Journalists or columnists who know the streets, saloons, alleys, Els, working stiffs, and the real people who make this city great are rare. Finding one who can talk like and appeal to them is even rarer. Oh, there are a few still out there, still barely hanging on. But for how long?
In 1963, the Chicago Daily News gave a gawky, goofy-looking guy his own column. That guy went on to enrage, enlighten, and entertain Chicago for over 30 years. That guy was Mike Royko. There was a petition on Change.org to erect a statue of Mike Royko. "Chicago, the greatest city, deserves a statue of Mike Royko, its greatest columnist."
The Chicago School of Journalism started its slow death on April 29th, 1997, when Mike Royko died. All that is left is to give Chicago journalism the last rites, drive a stake through its heart, and cremate it.
Royko was the best columnist in the country when he was alive. He was the preeminent chronicler of Chicago, its politics, people, and the Chicago Way. Any and every topic was fodder for a Royko column. A former colleague and friend of mine was the subject of one of his columns. (Subscription may be required.) No one did it better at the time.
"Dijareadroyko" was on the lips of many Chicagoans daily. On public trans, in the workplace, on the street, in the diners and bars, and whispered in City Hall. No matter how big or powerful, he could and would sting you. No matter how low or insignificant, he could champion your cause.
Like our mayors, politicians, and bureaucrats, Royko was a guy people loved to hate and hated to love. He could make you laugh, cry, or get angry, sometimes in the same column.
Royko, like most Chicago artists, was prodigious. Royko wrote a column five days a week for over thirty years. His columns were syndicated in over 600 newspapers. He wrote over 7500 columns. He also wrote a column for Reader's Digest called "That's Outrageous."
Royko started his column with the Daily News. When that paper folded, he went to the Chicago Sun-Times. He eventually landed at the Chicago Tribune, a paper he said he would never work for. He left the Times because someone he thought was odious bought it.
Royko was fearless. He did not care about the powers that be or being "offensive," whatever that means. Being offended is a personal choice. Others are not responsible for the choices people make. Mike Royko was human, which means he was not perfect. As the Son of the Great Comedian the once said, "Let he who is perfect cast the alley apple*."
Mike Royko was a son of Chicago. Many thought he was a son of a something else. He was born, raised, and lived his life here until he moved to the leafy suburbs, where city people go to wait to die.
Aside from his political columns, Mike Royko was a champion of the little guy, the oppressed, the victims of the Chicago Way, the blue-collar ethnic working-class, and the poor. He gave people who had no say a voice.
Royko's good friend Studs Terkel, summed up his legacy:
"He was possessed by a demon. How else to explain the tavern keeper's kid, in a world he never made, a world compressed into one, cockeyed wonder of a city; of "haves" kicking the bejeepers out of "have-nots"; of Jane Addams and Al Capone; of Florence Scala, a neighborhood heroine, and Richard J. Daley- and of Slats Grobnik, for God's sake. Royko was the right one in the right city at the right time: to tell us in small tales what this big, crazy world in the last half of the twentieth century was all about. And the devil made him do it." (The Best of Mike Royko One More Time/University of Chicago Press)
There is a statue of a mere gossip columnist, Irv Kupcinet, and statues of beloved sports announcers, Harry Caray, and Jack Brickhouse. There is no statue for another beloved Chicago columnist, Ann Landers (Eppie Lederer). It is past time for her to have a statue, too.
Royko was a devotee of 16-inch softball, the only softball in Chicago. I still do not know why 12-inch softball is not banned in this city. By the way, who wears gloves to play softball? I guess the powers that be do not want to offend the Wussie community. They might cry, protest, and band together to form an organization- Little Balls Matter, LBM.
Maybe a statue of Royko holding a sixteen-inch softball aloft like Hamlet holding the skull of "Poor Yorick," would be cool. Royko would appreciate the Shakespearean element. When I shared the petition on Facebook, an acquaintance, the Geriatric Genius, stated the statue should be in front of City Hall, with Royko giving it the finger. It could be put on the ugly concrete flower partition in the middle of the street.
Mike Royko deserves a statue. If not a sculpture, a permanent mural, or mosaic mural would be lovely. Chicago has talented artists who would do justice to the project.
If we can erect a statue of a mere gossip columnist, we should have one for Royko, who contributed so much commentary, laughter, anger, and entertainment to the people of this city. Then, we can talk about a statue of Ann Landers.
*For those who came to Chicago from some place else, calling people by their last names is a long-held and cherished Chicago tradition.
*Alley apple: Any hard thing found in an alley. Bricks, pieces of concrete, chunks of coal, stones, etc. Anything that would break windows, heads, or bones.