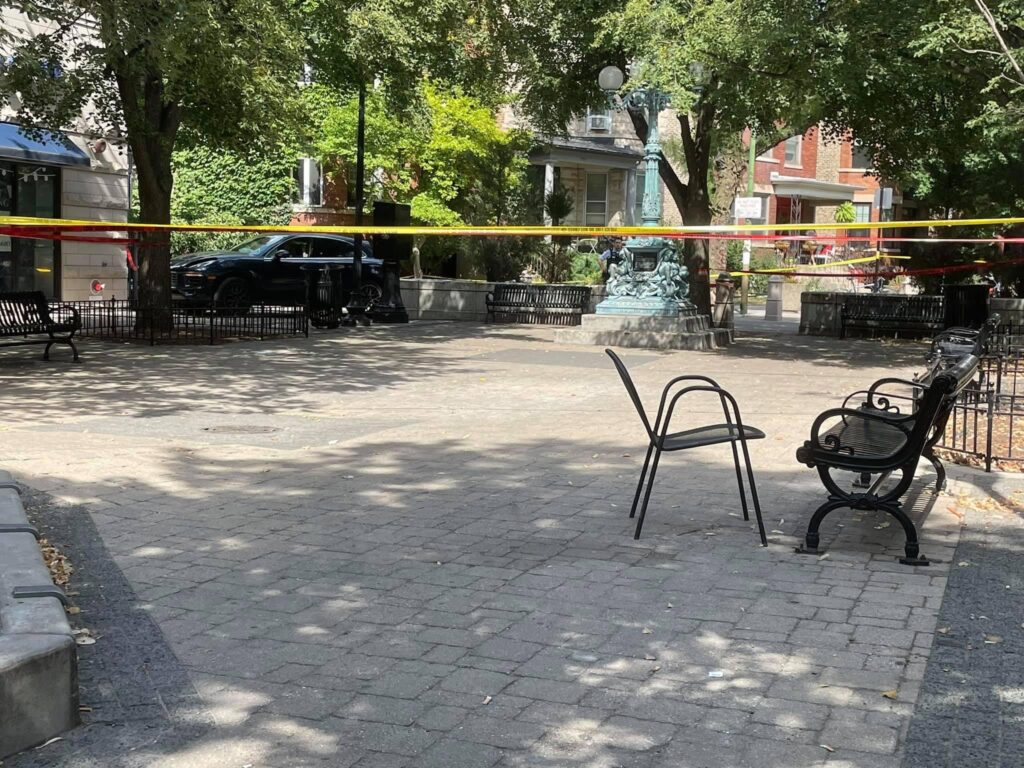 When I was a young boy, we played cops and robbers. We chased each other through the neighborhood, shooting toy guns, sometimes cap guns. I still remember the smell of the smoke from paper caps.
Today, in Chicago, people play with real guns. They run around neighborhoods spraying bullets. The violence in Chicago is out of control. Every neighborhood is affected by it. Nowhere is safe.
Chicago is like the mythical wild west. You could be run down by a fleeing felon or randomly shot and killed. It does not matter where you live. Supposed quiet neighborhoods like mine are turning into shooting galleries.
Giddings Plaza is a pleasant place to hang out, sit, think, and work. You occasionally meet interesting people. The plaza has park benches and chairs that one of the regulars found and brought there. People sit with laptops or dine out at the two restaurants on each side. Some bring food from other places to eat. Parents bring their small children to run around, climb the decorative German light pole, or draw with sidewalk chalk. Musicians and other entertainers put on shows.
I usually go there daily, weather permitting. It is my outdoor office. As I walked there yesterday, I heard a news report about traffic being backed up just north of the plaza due to police activity.
I arrived at the plaza and saw yellow and red crime scene tape. Red tape is used for serious incidents, especially crimes of violence. There was a car that crashed into the corner of a building at the crime scene.
I initially found out that the car was used in a shooting, and two alleged offenders fled. One ran through a restaurant where several police officers were eating. They chased him down the street, capturing him. The other alleged offender ran in a different direction and got away.
I later found out that the shooting was about a half-mile away. The car, a Porsche SUV, was involved. They were fleeing, lost control of the car, and crashed. A vehicle matching that description was involved in several recent shots fired calls in the area.
Guns and drugs were found in the vehicle, and charges are pending against the one arrestee. The details of the incident were not clear. Two versions were and still are being given. One, a FedEx driver, was shot and wounded. The other, a motorist, was shot and wounded in the arm. The victim went to a local hospital for treatment.
This could have turned into a tragedy. Small children play in the plaza as well as people like me, who hang out there. The driver of that car could have struck any of us when he lost control. Like many other places in Chicago this summer, it could have turned into a mass shooting.
I watched things play out, as I did for almost thirty years on the Chicago Police Department. The detectives showed up, canvassing the area. Forensics processed the car. After a while, things returned to normal. Except, in this summer of rampant citywide violence, there is no normal.
There is no safe place in Chicago. Not even a pleasant plaza in what is described as a quiet neighborhood. Anyone can be a victim. There were several recent calls of shots fired in the general area over the past week or so. Three people were shot in the area this year.
The mayor claims the violence is a public health issue, a term local and national politicians use when they have no answers. Others claim the root causes of crime, poverty, gangs, drugs, and guns are the issue. No more. The weasel words must stop. This is a political and tactical problem. The problem lands squarely on Mayor Lori Lightfoot's and Superintendent David Brown's desk. They must stop talking and do something.
It was fortunate the alleged offender did not hit or run over people in the plaza. It was pure luck he was not some wild-eyed shooter, spraying bullets as he tried to run away. How long can fortune and luck hold out in this summer of violence, bloodshed, and death?