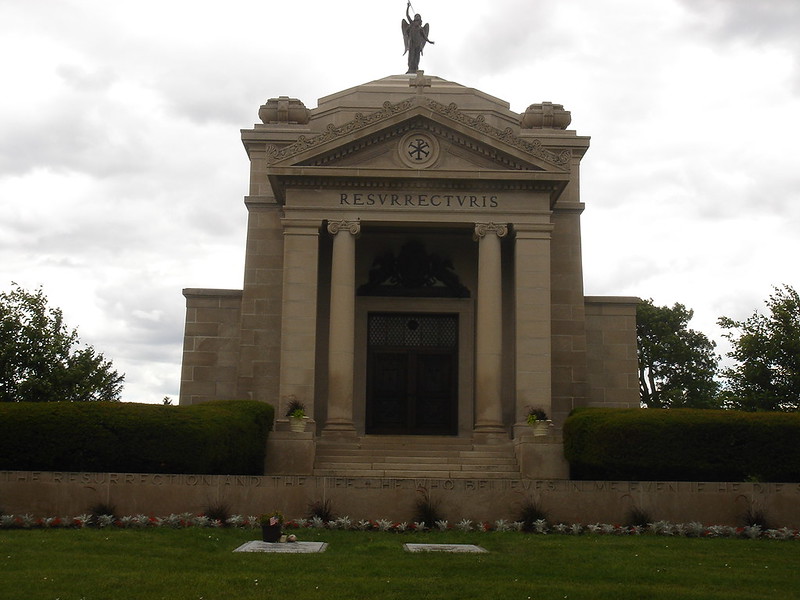 "The cold limestone edifice of the Bishop's Mausoleum stands on a bluff overlooking Mount Carmel Cemetery in Hillside. A bronze statue of the angel Gabriel sits atop blowing a trumpet, and if you could stand next to him, you would look out on the Chicago skyline." (Chicago Tribune)
On Sunday, the Chicago Archdiocese opened the Bishops Mausoleum to the public to commemorate the 25th anniversary of Cardinal Bernardin's death. The mausoleum is on a hill overlooking the Mr. Carmel Cemetery in Hillside, Illinois.
The first Archbishop of Chicago, Patrick Feehan, conceived the idea for the museum as a burial place for Archdiocesan bishops. He died in 1902. His successor, Archbishop James Quigley, commissioned the mausoleum. The mausoleum was constructed between 1905-1912.
The mausoleum was designed by architect William Brinkmann in the Romanesque style on the outside with a domed Romanesque Classical chapel inside. The roof is a pyramid shape with a sculpture of the Angel Gabriel blowing his horn.
Aristide Leonori, a renowned religious architect, designed the interior. Leonori relied on marble and mosaics to give the chapel a Roman look. He referenced Celtic, Nordic and Slavic saints in the design, reflecting the archdiocese's many ethnic groups.
The chapel includes an altar, religious murals, clerestory windows, and crypts flanking each side of the altar. There are also Papal and US Flags.
"The clergy buried in the mausoleum are: Bishop William Quarter, the first bishop of Chicago; Bishop James Duggan, the fourth bishop of Chicago; Archbishop Patrick Feehan; Archbishop James Quigley; Archbishop William O'Brien, auxiliary bishop of Chicago who was the first Catholic bishop in the United States not to head a diocese to be named an archbishop; Cardinal Samuel Stritch, the fourth archbishop of Chicago; and Cardinal John Cody, sixth archbishop of Chicago." (Archdiocese of Chicago News Release)
Cardinal Bernardin requested to be buried next to Cardinal Cody, as his philosophy was to the left of Cody.