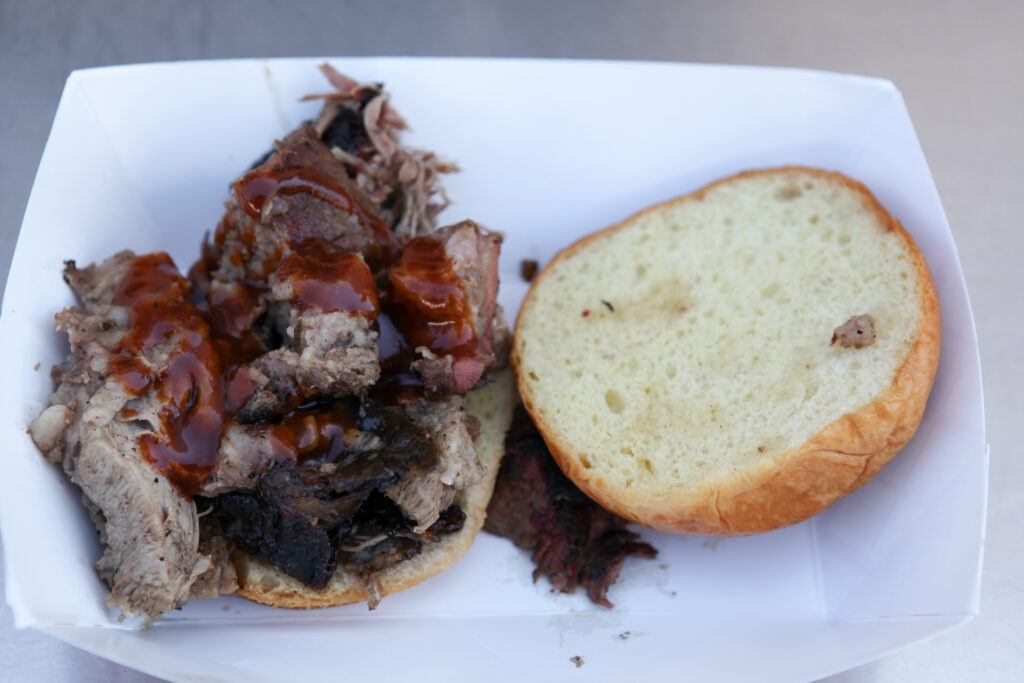 When I was young, relatives and family friends would travel to the South or West sides to buy barbecue. Some came in from the suburbs to get their barbecue fix. They would brag that it was the best barbecue they ever had. When I worked in Lawndale as a police officer, there were some good barbecue places we frequented.
I've eaten in many of Chicago's barbecue places, including Smoque, Smoke Daddy, Honky Tonk, and Chicago Q. While they are all good, the best barbecue in the city is the African American barbecue places serving Chicago-style barbecue. I used to patronize Bibs and Ribs in Hyde Park until they closed. Most are located on the South and West sides of the city.
A few BBQ places tried to open on the Northside and did so-so business. The pandemic caused many to close. Most of the South and West side barbecue places are only carryout and or delivery. A few have long lines to get in and it is best if you order ahead.
We have the Chicago-style hotdog and Chicago -style deep-dish pizza. Chicago-style Italian beef sandwiches, Chicago-style gyros, and Chicago-style tavern pizza (Round pizza cut into small square pieces) In the mid-20th Century there was Chicago-style chop suey, mostly sold in the Southside African American neighborhoods to workers. It was a filling, nourishing, and most important, inexpensive lunch.
Chicago Tribune food columnist, Nick Kindelsperger wrote a piece about Southside barbeque and the ascendence of Texas style barbecue in the Chicago area. He also described the struggles of Southside barbecue of becoming a local phenomenon.
As Nick Kindelsperger points out, Chicago-style barbecue is prepared in glass aquarium style smokers unique to Chicago. Chicago-style barbecue is also more pork-centric, especially rib tips, pulled pork, and hot links.
Though some of the South and West side's barbecue restaurants have been around and popular for decades, the term Chicago-style barbecue never caught on like other foods.
Over the past several years, barbecue restaurants cooking other styles of barbecue such as South Carolina and Texas styles opened. Many like those mentioned above are popular and draw crowds while touting their "styles" of BBQ.
Chicago-style barbecue, like other foods, is truly unique to our city and the style should get the recognition it deserves. The pitmasters who create this deliciousness should also get more recognition, not just from the food world and media, but the public.
Chicago's pit masters should, if they haven't already, form an association. They could create a marketing and branding plan to popularize Chicago-style barbecue and put it in people's minds just like Chicago-style hot dogs, beef sandwiches, gyros, and pizza.
There is no reason Chicago-style barbecue cannot be as popular or in the language as other Chicago-style foods. Food writers should jump on the band wagon too, sampling the food from various barbecue places and touting Chicago-style barbecue.
Look up Chicago-style barbecue places, try them, and even wait in long lines. You will be surprised and pleased. Tell your friends or bring them along. The only way to celebrate and promote Chicago-style barbecue is for people to patronize these places, eat the food, and get the word out there.