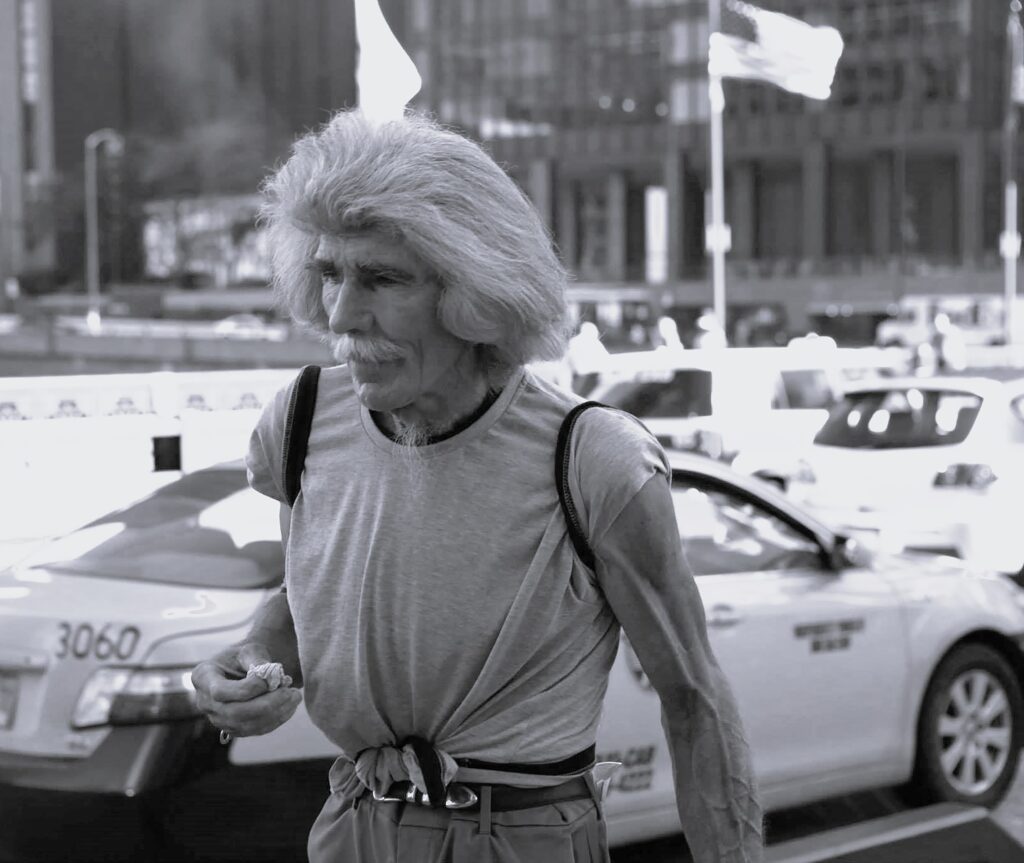 Joseph Kromelis.
His name was Joseph Kromelis. Mr. Kromelis is known as the "Walking Man" or "Walking Dude." He was a regular presence for forty years, walking and peddling around downtown and North Michigan Avenue. Mr. Kromelis was recognizable by his shoulder-length gray hair, prominent mustache, and clothing. Except on the hottest days, he wore a sport coat or overcoat. Sometimes he added a boutonniere.
Mr. Kromelis never bothered people. He was not a panhandler. He rarely talked to people. Once, someone asked him about his meanderings. He merely said he liked to walk.
Chicagoans knew little about Mr. Kromelis until he suffered a beating in 2016 and made the news. He made the news again in May of this year. While sleeping in the Underground Wabash near Trump Tower, a man doused a flammable liquid on him and lit him on fire. Security guards extinguished the fire and called the police.
Mr. Kromelis was not expected to survive. He suffered burns between 50-65% of his body. He survived and after being released from the hospital, they sent him to an assisted living and rehabilitation facility. Joseph Guardia was charged with attempted murder and arson.
On Sunday, the Office of the Medical Examiner reported the death of Mr. Kromelis. Once they reveal the cause and manner of death, we will know if prosecutors will upgrade the aggravated battery charge to murder.
Chicago, like any major city, has and had its share of colorful or oddball characters. Occasionally they made the news or the obits. No one knows what caused their idiosyncrasies. No one knows why Joseph Kromelis, "The Walking Man," spent his years daily walking around, other than he liked to walk. Chicago knew Mr. Kromelis because of his constant presence, yet we knew little about him. Not who he was, but why he was.