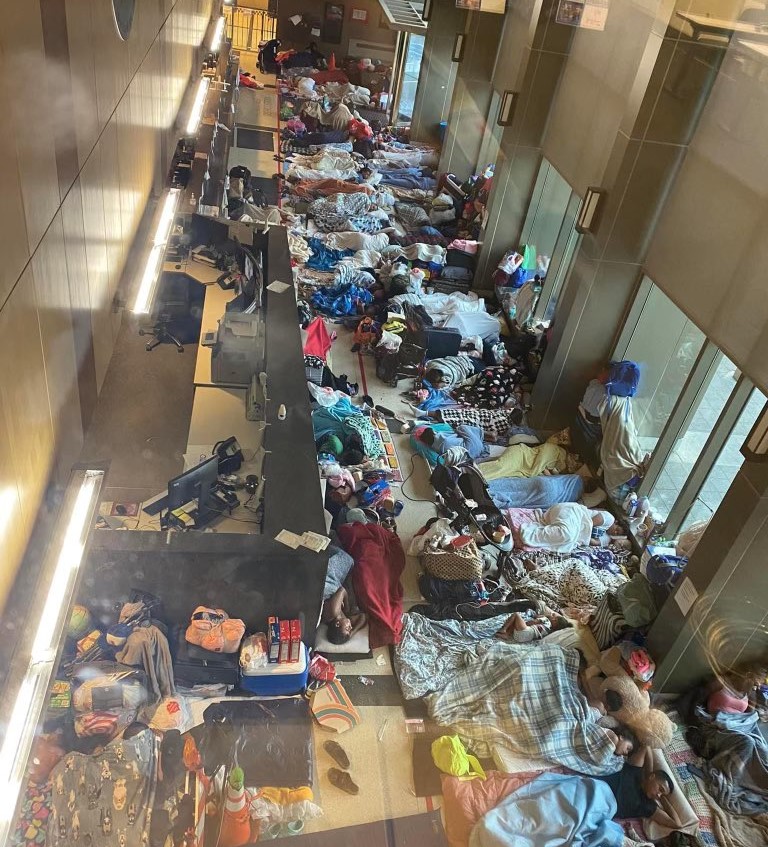 12th District Police Station
When asked for comment about the child's death White House Press Secretary Karine Jean-Pierre on Monday expressed condolences to the child's family. She also criticized Abbott's actions as dangerous and unlawful… It is unfortunate that [Abbott] continues to do this and it doesn't just put, sadly, young migrants at risk, but it also puts at risk, the border patrol who are trying to do their job and he gets in the way of that every day, Jean-Pierre said. (Block Club Chicago/Emphasis mine)
It has been one year since migrants were filtrated to Chicago from Texas. "As of Friday more than 6600 migrants lodging at city-run shelters, with another 1,576 sleeping in police stations and more than 400 camped at O'Hare. More than 13,500 asylum-seekers have arrived in the past year, often with no money and few belongings." (Chicago Tribune)
According to the Chicago Tribune, the city is operating 17 shelters. over 200 buses have come from the Texas border since last year. The city's support systems are being stretched to the breaking point. The tab is running to the hundreds of millions of dollars in city, state, and federal money. Migrants are still sleeping in Chicago Police stations.
At O'Hare Airport, hundreds of migrants are stuck at a shelter that's overcrowded and unsanitary.
Communities are up in arms over shelters opening in their neighborhoods. Homeless advocates question why the city cannot house our large homeless population. There are allegations of crimes being committed by the migrants or against them.
Inquiring minds want to know:
Why isn't the Biden administration putting a stop to the filtration bussing if it is "unlawful?"
Why is no one, city, state, or federal authorities going into federal court to get a stay to stop to Abbott's racist illegal stunt?
Why won't the feds indict Abbott and his minions, slap on cuffs, haul them off to jail for violations of civil and human rights and interference in federal government operations.?
Why won't they make Abbott do a perp roll in front of the cameras in his wheelchair?
Why aren't Chicago and Illinois suing Texas for the costs to the city of this illegal filtration system?
If the filtration is "illegal," why not impound the buses when they drop off immigrants and haul them to the auto pound? The same with planes. Impound them and send them to an airport until a judge decides their fate.
Instead of stopping "illegal" activity by a state government official, the Johnson administration is begging for more tens of millions of dollars to assist the immigrants. "Pritzker said during Thursday's press conference $350 million in total has been spent on efforts to help asylum seekers — $250 million from the state, $100 million from the city and about $38 million of reimbursement from the federal government." (Block Club Chicago)
Greg Abbott's racist political stunt is worthy of Hitler and Putin. He should be tarred and feathered in the press, who have been tepid in their response to Abbott's filtration of immigrants.
We must commend the city and state for welcoming and assisting migrants seeking a better life. Chicago is a welcoming city. But, the mass filtration of migrants makes it nearly impossible to assist them with housing, necessities, and employment.
There should be severe repercussions for Abbott's inhumanity. The news media editorial boards should be condemning Abbott for his cruel stunt. We should demand federal action to stop Abbott and recover costs from Texas because of his racist stunt.
How many more tens or hundreds of millions of taxpayer money do we have to spend? How many migrants must be housed in substandard conditions in police stations and other temporary shelters? Like Lori Lightfoot, Brandon Johnson is failing the migrants and the residents of Chicago. The Biden administration is failing us. They are doing nothing to stop this cruelty.
If, as Biden's White House Press Secretary Karine Jean-Pierre stated, what Abbott is doing is "unlawful," we are owed an explanation as to why Abbot is not under investigation or why the government is not in court stopping his illegal actions. Why is Governor Abbott being treated with kid gloves?
We get nothing but crickets. We are living in a city, state, and nation of cowardly politicians. So much for that slogan, "Home of the Brave."