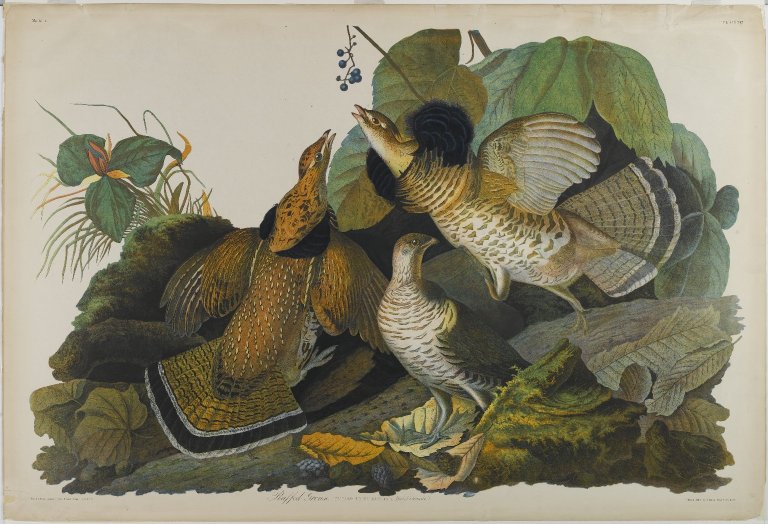 This is the time of year I daydream about the northern woods of Minnesota and Ruffed Grouse. Bonasa umbellus, Ruffed Grouse, is native to many northern woodlands. They spend most of their time foraging on the ground for food. Legally, you must shoot grouse on the wing, that is they must flush, and you try to shoot them in the air. They are a challenge. You hear them flush before you see them. They flush fast and veer right or left. Most of the time, you are sky blasting or shooting tree branches. Shooting at them is like shooting trap or skeet with brains.
The second week of October was a two-week excursion to hunt the elusive ruffed grouse for about four years. I would drive to Minneapolis to meet my late friend John, and we would go further north to Moose Lake Lodge, 14 miles from Black Duck, a small town.
We had to bring our provisions, food, beer, booze, book bags, and cigars. John brought the dogs, Springer Spaniels. We rented a bungalow, one of four on the shore of Moose Lake. National forests surround the area.
The usual routine was getting up before dawn, checking the weather, and going for a long walk in the woods, together or alone with one or both dogs. Return to the cabin around noon, eat lunch, maybe nap, or read, then go back out until the sun starts to set. You did not want to be in the woods after dark. Up there, dark is darker than dark. Getting disoriented is easy, and the chances of hitting a deer on those unlit roads can be a danger..
Many years we were skunked, two weeks and few or no grouse. Feet hunt grouse. You must walk, sometimes miles, to even see or flush one. They are cagey and skittish. Many times, you hear them flush before you see them.
Sometimes, we would hunt the areas around the cabin. Others, we drove miles to different parts of the forests in search of those birds. Shooting grouse is an achievement. You are grateful. They are beautiful birds and taste good.
The walks in the woods were therapeutic. There is no hustle or bustle of city life: no traffic noise or other urban sounds. The sounds were only the wind in the trees, leaves rustling, and the sounds animals make going through the woods. The woods were pines, birch, maple trees, and aspen groves. Most of the grouse habitat is in the aspen groves, as they eat the buds.
Geese and ducks were plentiful, though we never hunted them. It was too easy. Grouse are a challenge.
John was scientific about the hunt. He would check the weather and barometric pressure. Grouse are affected by both. On the off days or when there was a possibility of rain, I would take road trips to nearby towns. I would visit the local merchants or eat lunch at the one restaurant in the town, usually what we call a diner.
The local people were welcoming and willing to talk to a visitor. Their concerns are foreign to urban dwellers. They do not talk about crime, noise, pollution, race, or any of the myriad things we are absorbed in. They ask but drift off to discuss the weather, crop and livestock prices, hunting, fishing, logging, and doses of gossip.
The politics are odd. Their ideologies are a mix of conservative, liberal, socialist, with doses of left or right extremism. Their politics are based on what directly affects their lives, strictly local or regional.
Once or twice during our stay, we would drive forty miles to Bemidji or Walker to restock our groceries, liquor, or other items we could not get in Black Duck. Sometimes, we would eat an early dinner. I would drive alone occasionally, park, and walk through the towns. I would imagine living there.
Eventually, after four years, life interfered, as it has a nasty habit of doing. I could no longer make the trek north and stay for two weeks. I used to say maybe next year, but next year came and went every time.
I miss those days. When I crossed the border into the Chicago area, I became frustrated. Living in an urban area, compared to the Northwoods, is night and day. I could never live up there permanently. Everything is too far away. You need good coping skills. I do miss those trips. The stress of urban living disappeared. There was beauty in the natural world. The people practiced what they call Minnesota Nice.
One fall season, before I turn into worm food, I will return. Not to hunt but to roam the woods, smell the pines, see the various woodland creatures, and witness the wonders of nature. At night, I would gaze at the stars and galaxies you never see in the city. I would lift a glass to my friend and the past memories.